Retail shelf graphics are ideal for brands who want their products to get noticed in a busy retail environment. The most popular shelf marketing style is a wobbler.
This product connects to the retail shelf with tape and dangles in front of the consumer. Because of the unique wobble style of the piece, it's great for catching attention. 
Get a quote in 30 minutes
Next: Upload Artwork If Available
Feel Confident About Your Shelf Wobblers
Wobblers are often made out of a thin plastic material to give them extra long durability. This product can also be made using a paper cardstock for short-term use. 
These products can be screen printed, digitally printed, or flexo printed depending on your artwork and quantities. 
What are the most popular retail shelf marketing pieces?
Shelf marketing is valuable marketing real-estate in a retail store. Because the graphic is directly in front of the product, it can have a major impact on consumer decisions. There's several different styles of retail shelf marketing pieces.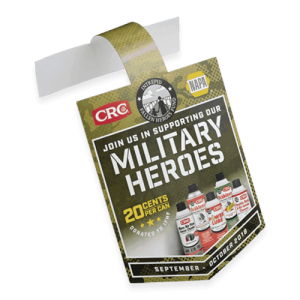 We can consult with you on which pieces make the most sense for your brand and product. Here's a few to consider:
Shelf wobblers are the most traditional of retail shelf pieces.
Branded shelves are becoming more popular. This product is a removable adhesive sticker that adheres to the shelf. 
Header cards and shelf cards
Aisle violators use shelf clips to stick out in the aisle. 
Similar products to shelf wobblers