Description
Double-Sided Window Stickers
Double-sided window stickers give you the ability to advertise from the inside and outside of the window at the same time. These stickers are printed on the front and back of the sticker with an opaque middle layer to keep the designs from conflicting.
Free Shipping

Outdoor Durable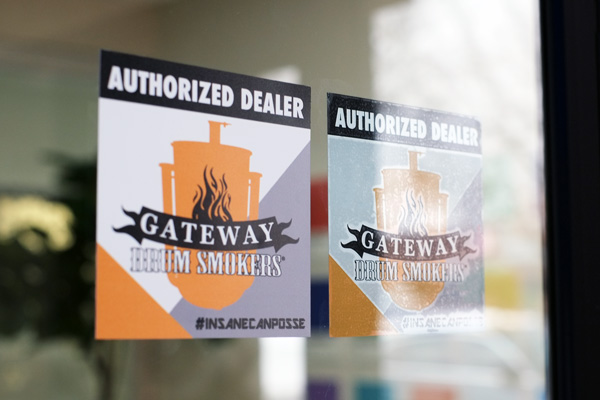 Start Your Order!
Next: Checkout > Upload Art
To order custom two-sided stickers, choose a size and quantity and add the product to your cart. During the checkout process, upload your art. Our graphics team will send you a free online proof within one business day. These stickers typically ship in 5 business days via standard ground shipping.
Upload your art and start a conversation!
Double-Sided Window Stickers For Double The Exposure
Double-sided stickers are sometimes referred to as push-pull stickers because they are often used on retail entryway doors, indicating which direction the door opens. With custom push-pull door stickers you can catch a potential customer's attention twice during an impression – coming into the store and leaving the store. These custom stickers will always be printed with an opaque middle layer, meaning the opposite side will not interfere with the viewing side.
Because these stickers can be used on the inside or outside of a window, they offer maximum flexibility based on your individual store or brand's needs.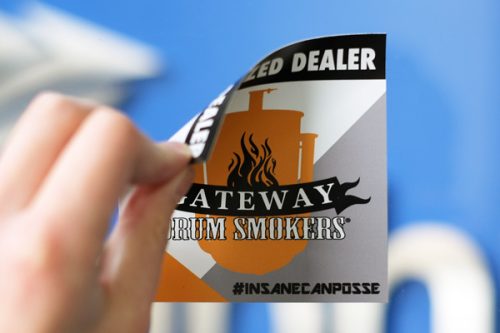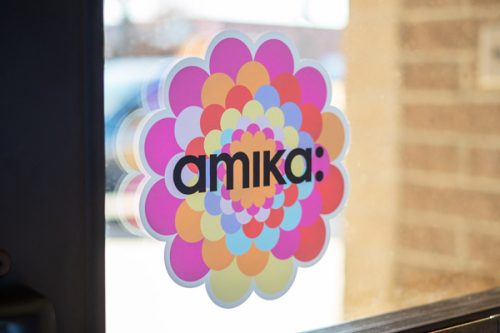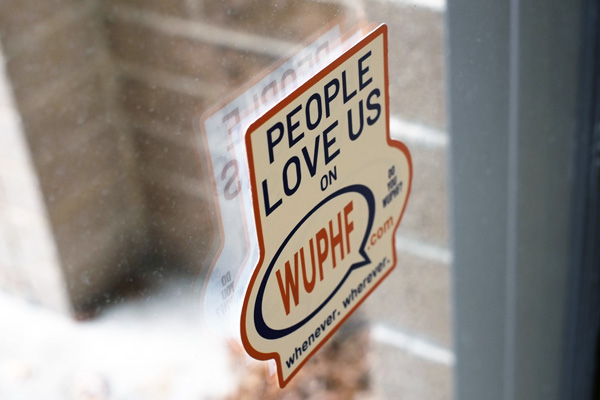 Features Of Double-Sided Stickers
Our double-sided decals are constructed out of the highest quality materials. We thought of every feature to give you confidence when ordering.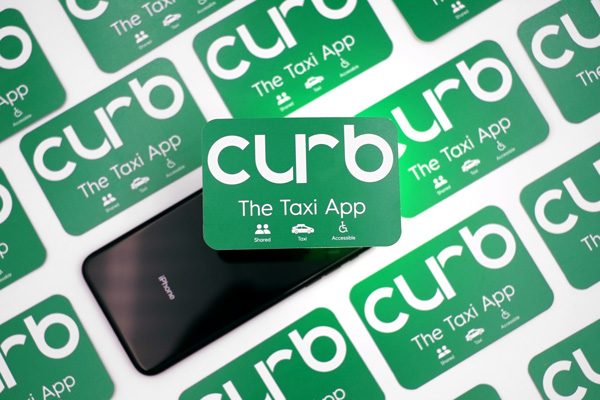 Opaque barrier between sides
The opaque layer in the middle keeps the prints from conflicting in store windows.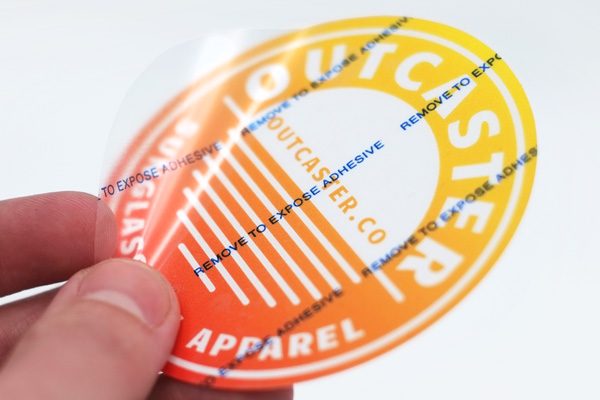 Easy-peel removable adhesive
Removable from windows for up to a year. No hassling with sticky residue.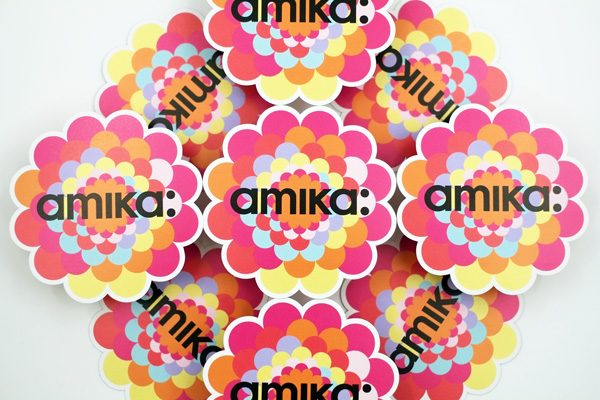 Perfectly cut to your shape.
Your stickers are unique to your brand with custom die cut shapes. Give your stickers an upgraded look.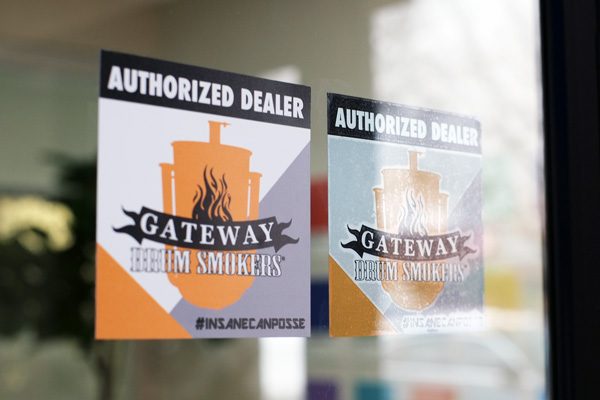 Inside or outside application
These stickers can be placed on the inside or outside of windows and easy viewed from either direction.
Best Places To Use Double-Sided Window Stickers
Two-sided decals or custom push pull door stickers are a specialized custom sticker that carries a lot of advertisement weight on store doors and windows. When designed and printed properly, they have a vibrant and professional look.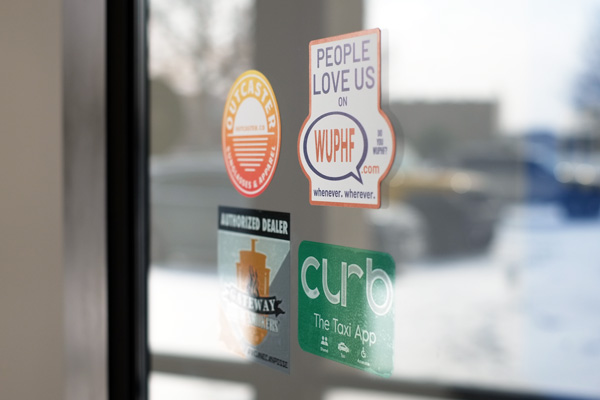 Authorized Dealer Stickers
Give your customer's confidence they are buying from an approved and authorized dealer of your products. That reassurance also makes for a great advertisement!
Retail Door Strikes
Two-sided retail door strikes are decals that go just above the door handle to your favorite retail store. Grab customer attention prior to a purchase decision. 
Security Decals
Keep burglars and unwanted traffic away with two-sided security stickers. 
Benefits of Using Double-Sided Printed Stickers?
Double sided window decals provide many benefits over traditional stickers for your business or brand. Unlike traditional stickers, double sided window stickers are designed to display your message on either side of a glass door or glass window. This means a potential customer will not only see your logo once as they enter a retail space, but again once they leave. Our double sided window stickers are printed with the same uv inks as traditional stickers making them extremely durable to the elements. These make great additions to your marketing strategy as authorized dealer stickers, or new product announcements.
Things to Consider When Ordering Double-Sided Window Stickers
When ordering double sided window clings it's important to keep it simple. Whether you're creating a practical push-pull type decal, or a new additional to your marketing campaign advertising a new product or sale, don't make the design too complex. Most people will only view these decals for a few seconds, so you don't have a lot of time to convey the message. As long as you keep your designs simple and think of the space they will be used in you'll be good to go!
FAQs – FAQ's Related to Double-Sided Window Stickers
What Is a Double-Sided Window Decal?
Double sided window decals are decals that have uv inks printed on both sides of the sticker. One side features a removable adhesive with a release liner that stickers to glass and other smooth surfaces.
What Sizes Do You Offer for Double-Sided Window Decals?
Our sizes can be completely customized to your project. Popular sizes start around 4"x4" and go up from there to as large as 26"x40"! If you have a question about you project, reach out and we can help guide you in the right direction!
What Material Are the Double Sided Window Decals Printed On?
Our double sided window decals are oriented on a 8mil plastic material that is specifically designed to block out light from one side to the other. We then laminate a removable adhesive to one side that allows these to be easily installed on windows and other glass surfaces.
How Do I Know Which Side Will Have the Adhesive?
The adhesive can be applied to either side of the decals. We will notate on the pre-production proof which side we are planning on applying the adhesive. If there is a specific side you're wanting to be the adhesive side, we can accommodate that!
Can I Have Two Different Images Printed?
Yes! We can easily print one image on the front and another on the back. Once thing to keep in mind is that they both need to fit inside the overall shape of the decal.
How Long Do the Window Graphics Last?
Depending on the amount of sunlight the area your area receives during the day you can expect anywhere from 3-5 years out of your double sided window decals.
How to Install Double-Sided Window Decals
Double sided window decals can be installed on any smooth surface, but a glass surface like a door or window is best. First ensure the surface is smooth, and clear of any debris. Second, remove the release liner from the back of the sticker to expose the adhesive, then apply!
How thick are double-sided window stickers?
Double sided stickers are approximately 10 mils thick. We have a blog post dedicated to mils measurement for stickers. 
Buy Custom Stickers With Confidence
Trusted Reputation

40+ years in business and billions of stickers produced for brands world-wide.
Cost Effective

Inexpensive for small orders and extremely competitive for bulk orders!
Simple Ordering

Select your product and checkout in under 3 minutes.
Speedy Production

Most orders ship in 5 business days with free ground shipping!
Looking For Something More Custom?
Our wholesale B2B team can help you with your complex sticker project! Fill out the form below and one of our account executive will contact you within 24 hours. Or feel free to contact us at (918) 258-6502 or hello@comgraphx.com.
Similar Products To Double-Sided Stickers