Description
Shiny Chrome Stickers
Our shiny chrome stickers are printed in full color plus spot white ink on outdoor quality chrome material then perfectly cut to shape.
Free Shipping

Outdoor Durable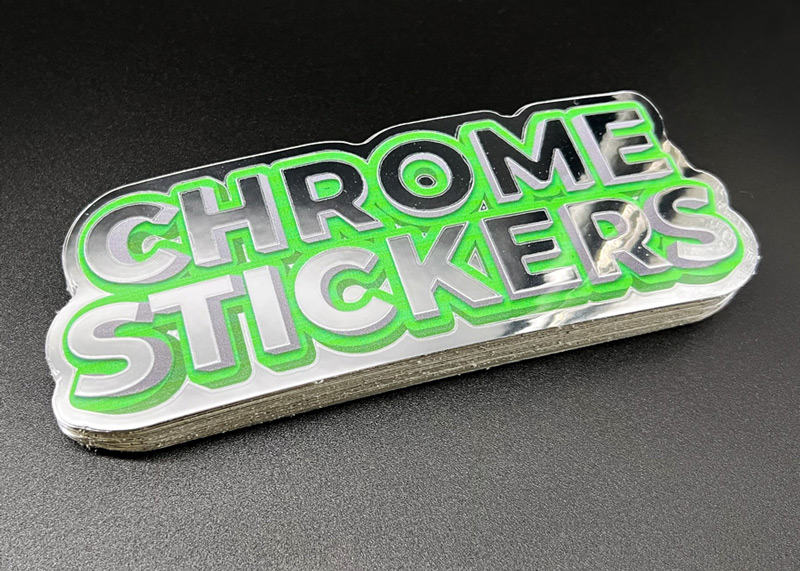 Start Your Order!
Next: Checkout > Upload Art
Upload your art and start a conversation!
Shiny chrome stickers are printed on a premium chrome material with a metallic finish in the printed areas and are fully rated for outdoor use. Our mirror chrome stickers are resistant to the elements such as harsh UV rays, rain, and dirt. These chrome stickers come standard with our user-friendly back-slit liner and can be applied to any clean smooth surface, making them extremely versatile. Mirror chrome stickers can be finished as a die cut sticker and perfectly cut to shape, or square sticker. 
To purchase, simply choose your size and quantity and add the product to your cart. After checkout, submit your artwork file to our design team. We will send you a free online proof within 1 business day for your final approval. Once approved, production takes 4-5 business days. Your order will ship free with standard ground shipping. 
Ultra Unique, Ultra Shiny.
Our industry-leading printers can print white on our premium chrome material in specific areas behind your art to create unique eye-catching metallic effects that make your brand stand out. Mirror chrome stickers get 500% more visual attention when compared to standard vinyl labels. (We just made that number up but it's probably not that far off) So you can trust your company logo will stand out!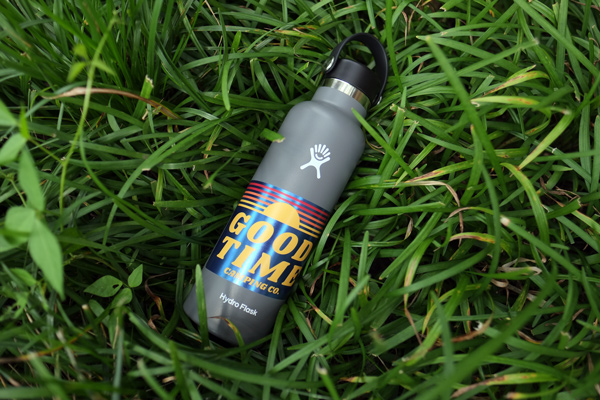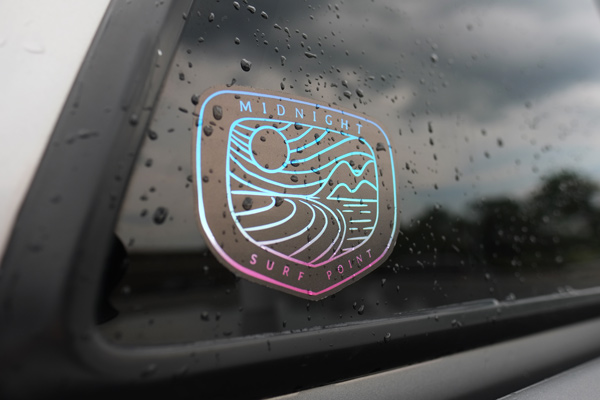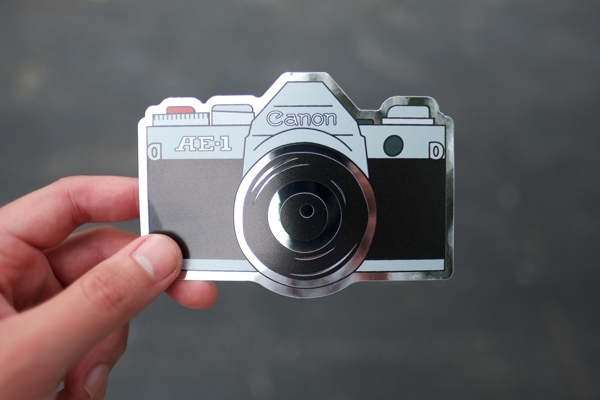 Chrome Stickers Can Be Used For, But Not Limited To:
Custom chrome stickers can be used in a variety of ways to personalize and decorate various surfaces. They can be applied to vehicles to give them a sleek and polished appearance, and can be used to identify company vehicles or advertise the brand. Custom chrome stickers can also be used to decorate and personalize personal items, such as laptops, phones, or water bottles. They can be used to add a touch of individuality to everyday objects and make them stand out. In addition, custom chrome stickers can be used to label and organize products or equipment, making them easy to identify and locate. They can also be used as a marketing tool, by placing them on packaging or advertising materials to promote the brand and attract new customers. Overall, custom chrome stickers offer a versatile and eye-catching way to customize and personalize a variety of surfaces. Chrome stickers make excellent branding stickers, as well as safety stickers! Of course your brand will look great printed on shiny material, but chrome material also makes excellent safety stickers! Given the reflective properties of the material, these stickers stand out when in a busy production environment. Consider making important text red so it really pops.
How To Design Perfect Mirror Chrome Stickers
Designing chrome stickers is more complicated than traditional die cuts due to the white placement.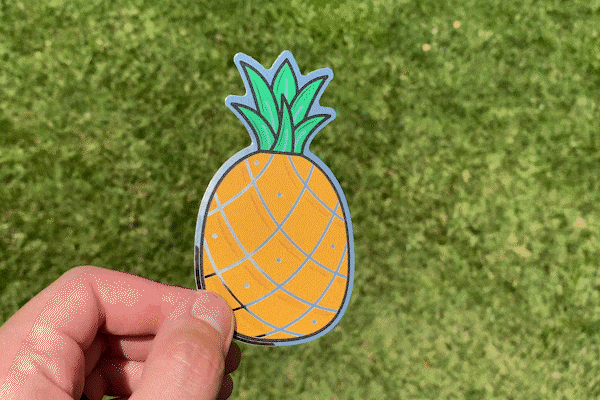 Consider which colors are backed in white.
Due to the nature of the chrome material, colors that are not backed in white will have a metallic finish and might appear slightly darker than anticipated. Our artists can work with you to make sure your custom print is exactly what you want.
Let the chrome material show through.
You can take your designs to the next level by letting the mirror chrome material show through in blank areas normally printed. Since our mirror chrome stickers perform great in the elements your designs will look great in the sun!
Create unique and exciting die cut shapes.
We recommend using a flowing die line with rounded corners, but that doesn't mean you can't create fun die cut shapes. Consider leaving a 1/8″ border around the edge to create an eye-catching effect.
Outshine competitors with feature packed stickers
Our mirror chrome stickers come standard with premium features like custom die cut, white ink behind all colors, and certified material for the  outdoors that will give you confidence from the design to the application process.
https://youtu.be/VzgMaD2vT6w
Our Chrome Sticker Benefits
Custom chrome stickers can provide a variety of benefits to a business. Firstly, they can be used as a marketing tool to promote the brand and attract new customers. The shiny and reflective surface of chrome stickers can make them eye-catching and memorable, and they can be placed on products, packaging, or advertising materials to increase brand visibility. Additionally, custom chrome stickers can be used to identify and label company vehicles, helping to build brand recognition and professionalism. They can also be used to decorate and personalize company spaces, such as offices or showrooms, to create a cohesive and polished appearance. Overall, custom chrome stickers can help a business to stand out, build brand awareness, and create a professional image. Chrome stickers are a fantastic addition to your marketing materials. These grab the attention of potential customers in almost any environment. The material is highly reflective which makes your brand shine bright! The special polyester chrome material these are printed on is extremely durable when applied to a location that is exposed to the elements. Pair that with a glossy 2mil polyester laminate that helps protect the print from harmful UV rays and you have one extremely durable sticker!
FAQ's For Shiny Chrome Stickers
Do I need to provide art with white?
White ink is printed on chrome decals to make certain areas opaque and other areas shiny. If you know how to include a white layer in the art file, it would be very helpful for us. If you don't know how to include the white in the file, simply tell us via email and we will show it on your proof.
How long will these custom chrome stickers last outside?
Shiny chrome stickers are made from highly durable polyester material and will last outside for 3-5 years. To see more information about outdoor durability, check out our blog post, how long do stickers last?
Will my stickers come with a split-back liner?
Yes! Our chrome stickers come standard with a back-split liner making it easy for you to apply without damaging the decal. We will provide you with a pdf proof showing the approximate location of the back slit prior to production. 
Check out our blog post to learn more about stickers with a back slit for easy peeling. 
Where can I put my custom chrome decals?
Our decals can be installed on almost any smooth clean surface. They look great on trucks, cars, boats, side-by-sides, atv's, motorcycles laptops and more!
How thick are chrome stickers?
Chrome stickers are 5 mil thick for just the sticker, and 13 mil thick for both the sticker and the paper liner. 
These stickers are made to be durable and weatherproof. To learn more about sticker thickness, check out our blog post about mil thickness for stickers. 
What type of adhesive are on chrome decals?
Chrome decals come with our standard semi-permanent adhesive. This product is the perfect combination of permanent, yet removable. Ideal for everyday applications such as laptops, water bottles, car windows, and refrigerators. 
We wrote a blog post to better explain the adhesives we use on our stickers. 
Do these stickers come with a laminate? If so, which one?
These shiny stickers come with a gloss laminate to better enhance the reflective nature of the silver material. We do not offer this product with a matte laminate because it dulls the product, making the shiny effect non-existent. 
We have a resource to learn more about laminated sticker products. 
Buy Custom Stickers With Confidence
Trusted Reputation

40+ years in business and billions of stickers produced for brands world-wide.
Cost Effective

Inexpensive for small orders and extremely competitive for bulk orders!
Simple Ordering

Select your product and checkout in under 3 minutes.
Speedy Production

Most orders ship in 5 business days with free ground shipping!
Looking For Something More Custom?
Our wholesale B2B team can help you with your complex sticker project! Fill out the form below and one of our account executive will contact you within 24 hours. Or feel free to contact us at (918) 258-6502 or hello@comgraphx.com.
Similar Products To Shiny Chrome Stickers