Description
Back Printed Stickers
Back print stickers give you the ability to advertise not only on the front of the sticker but also on the back! Our specialty designed backing paper allows us to print your art in full color edge to edge for a high quality, attention grabbing look without doubling the cost.
Free Shipping

Outdoor Durable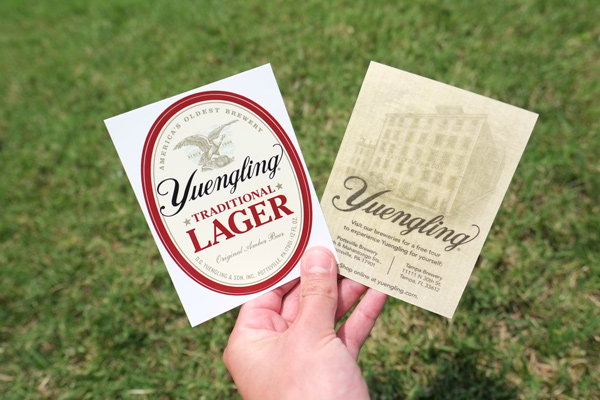 Start Your Order!
Next: Checkout > Upload Art
Upload your art and start a conversation!
Back-printed stickers are custom printed with your artwork on the front side (sticker side) and the backing sheet (liner paper) of the stickers. This gives you extra room to advertise your brand or message. These stickers can be finished as a die cut sticker, kiss cut sticker, or square sticker style. They are made from the same material as our other outdoor sticker options and make for the perfect product to include with your online orders.
To purchase, simply choose your size and quantity and add the product to your cart. After checkout, submit your artwork to our design team. We will send you a free online proof within 1 business day for your final approval. Once approved, production takes 4-5 business days. Your stickers ship free with standard ground shipping. 
Stickers With Back Printing Double The Impact
We specially developed the backing paper of our stickers to accept ink so you could use it to help advertise your brand. Use this space to make an impact with your customers by advertising a special promotion or encourage social media engagement.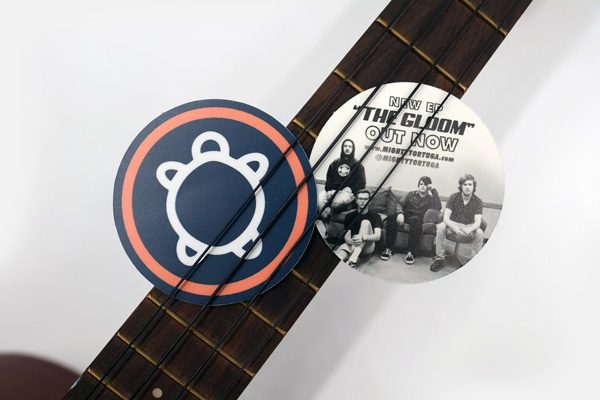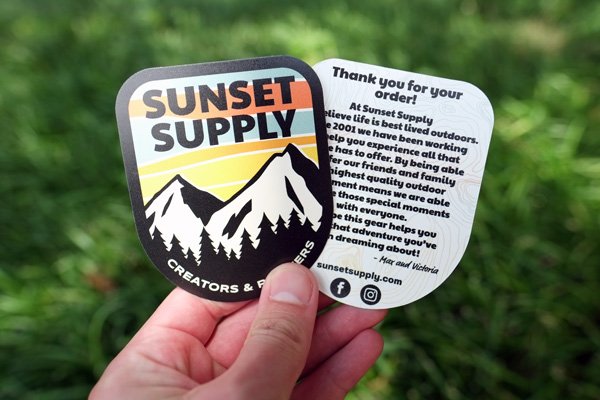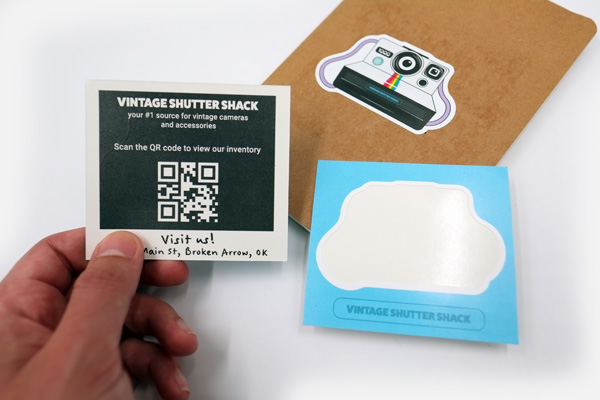 Buy Custom Stickers With Confidence
Trusted Reputation

40+ years in business and billions of stickers produced for brands world-wide.
Cost Effective

Inexpensive for small orders and extremely competitive for bulk orders!
Simple Ordering

Select your product and checkout in under 3 minutes.
Speedy Production

Most orders ship in 5 business days with free ground shipping!
FAQ's For Back Printed Stickers
Can you print in full color on the back? Or only black and white?
Yes, we can print in full color on the back of your stickers. This is a great way to create a unique product and take full advantage of the blank liner space and advertise your brand or products.
Can I get back printed stickers die cut or kiss cut?
These stickers can be finished several different ways. They can be die cut to a unique shape or kiss cut for easy peeling. Our art team can help you figure out the best configuration for your artwork.
Can you print bar codes or QR codes on the back?
Yes! The back of the liner is the perfect spot to print a barcode for retail use or QR code for product advertising. We recommend making barcodes and QR codes at least 1″ to ensure readability. 
I'm looking for stickers that are printed on the back of the sticker, not on the liner. Do you have this product?
Check out our double-sided stickers product! This is perfect for window graphics, in/out door signs, and other two sided applications. 
Are these stickers weather proof and made for outdoor use?
Yes! Our back-printed stickers are made from the same material as our other outdoor sticker products and are perfect for long-term outdoor use! These stickers are waterproof and sun-proof, and will last for several years outside. 
Looking For Something More Custom?
Our wholesale B2B team can help you with your complex sticker project! Fill out the form below and one of our account executive will contact you within 24 hours. Or feel free to contact us at (918) 258-6502 or hello@comgraphx.com.
Similar Products To Back Print Stickers