Description
Sticker Sheets
Custom sticker sheets are the perfect way to distribute multiple sticker designs at once. These convenient sheets allow for a variety of design concepts and expanded branding opportunities. Each sticker is carefully kiss cut for easy peeling off the liner.
Free Shipping

Outdoor Durable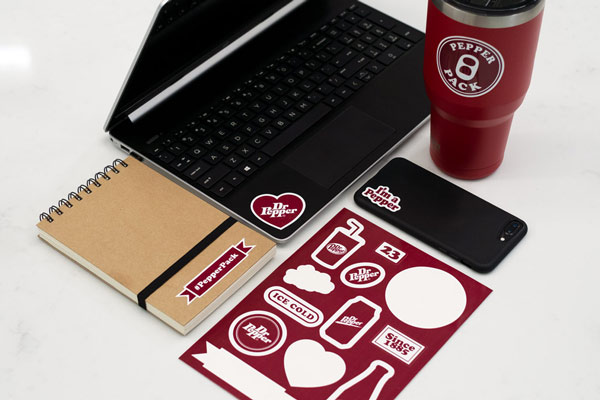 Start Your Order!
Next: Checkout > Upload Art
Upload your art and start a conversation!
Sticker sheets are printed in full color on outdoor vinyl and laminated for durability with a thick 4 mil laminate. This gives custom sticker sheets a premium look and feel that will stand the test of time. Each sticker is carefully cut to shape for easy peeling off the backing paper. 
Sticker sheets are an ideal product to give away to customers because of the convenience of having multiple designs in one easy to handle sheet. For a unique look, customize the entire sticker background with printed artwork instead of a plain white background. Or, add brand info to the back of your sticker sheets with our backprint stickers! 
Ordering your own custom sticker sheets is easy. Simply select a size and quantity and add the product to your cart. After checkout, upload your artwork and we will send you a free online proof to verify your order. After proof approval your custom sticker sheets are produced in 5 business days or less and ship with free ground shipping.
All Your Stickers On One Sheet: Kiss Cut Sticker Sheets Are Extremely Versatile
Our stickers are made to go on nearly any smooth surface and are rated for indoor and outdoor use. The adhesive is strong enough to stick, but won't leave a sticky residue. Made from a thick vinyl outdoor material and will last for several years in the harshest environments. Perfect for nearly every use.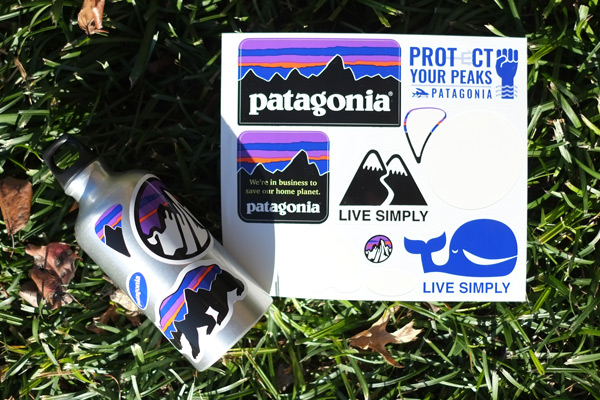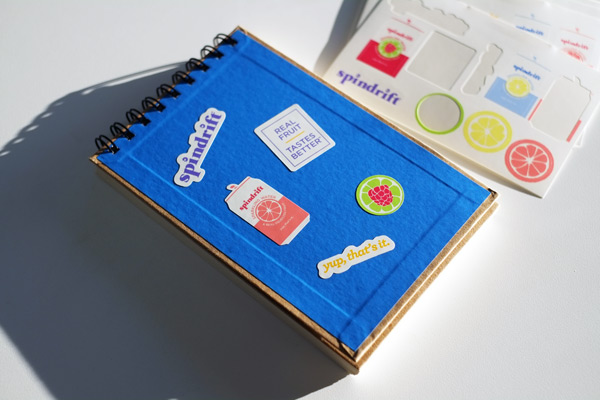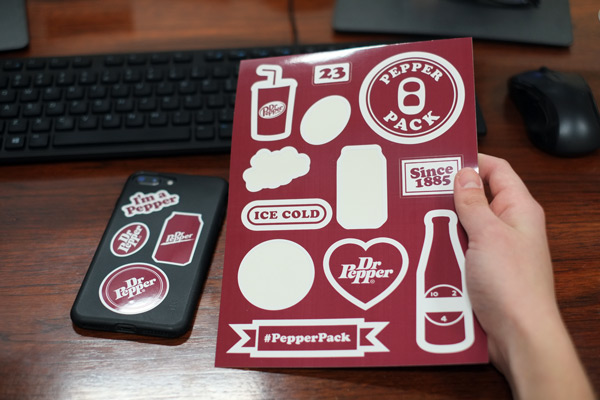 Vinyl Sticker Sheets Product Specs
Material Specs
White vinyl
Matte or Gloss
Semi-permanent
8 mils
Finishing Specs
Kiss cut custom shapes
No, not necessary for kiss cuts
Yes – see our back print stickers
Outdoor Lifespan

3 – 5 years
Features Of Custom Sticker Sheets: Premium, Vinyl Sticker Sheets
Custom outdoor stickers come complete with all of the wonderful features you expect in quality stickers. You can confidently order knowing your branding stickers will look great and impress your customers!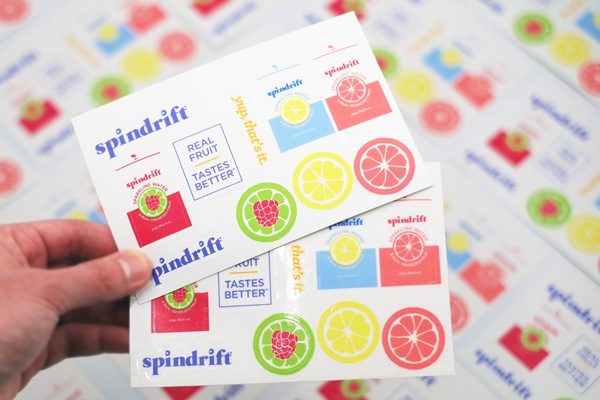 The laminate adds an extra layer of protection on top of the heavy-duty UV outdoor inks. Matte finish or gloss finish laminates make sure your custom stickers are perfect for your brand.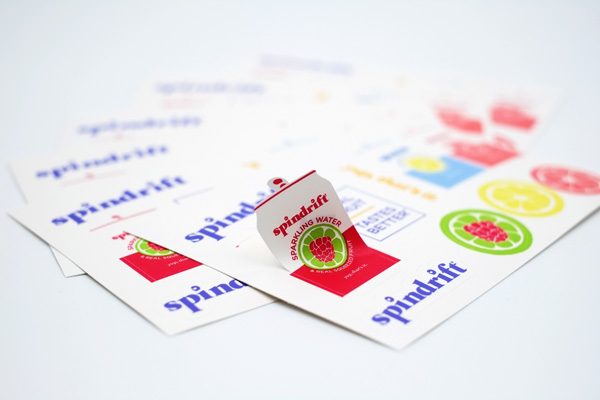 Your stickers are unique to your brand with completely custom die cut shapes. Give your custom stickers an upgraded look.
How To Design A Vinyl Sticker Sheet
Sticker sheets are one of the most popular sticker products we produce because of their endless design options. Each sticker sheet has 2-6 custom shaped stickers for your customers to use. Picking multiple designs of different shapes and sizes when designing the sheet guarantees at least one of the stickers will be used.
https://www.youtube.com/watch?v=sUCAgHXhGtc
Start with your part size.
Figure out what part size works best with your packaging or envelopes. Or if you are passing it out at a trade show, we think 5″ x 8″ is the ideal size. 
Create a safe space .25″ from the edge of the sheet.
The safety zone is the gap between the edge of your stickers and the edge of the sheet. This gap keeps your stickers from being damaged during the manufacturing process. 
Print multiple designs on your sticker sheets & Organize your stickers on the sheet.
Use every square inch of the single sheet! Try turning oddly shaped stickers sideways to get more stickers on  your sheet. 
Use the excess space as free marketing.
All blank space on the single sheet can be printed with your marketing info! Add a tagline, website, phone number or promotion. Find a creative way to use this dead space. 
FAQ's For Sticker Sheet Printing
What are the most popular sizes for sticker sheets?
Sticker sheets can be produced in nearly any size you want! The most common sizes are:
4″ x 6″
5″ x 8″
6″ x 9″
8″ x 11″
Can you print on the back of the sticker sheet?
For a back-printed custom sticker sheet, contact our wholesale B2B custom printing team, for a custom quote. Give us a call at (918) 258-6502 or email us at hello@comgraphx.com.
Can you help with the layout on my sticker sheet?
Of course we can help with the layout!
After placing your order, upload the images you would like placed on your sticker sheet. Our team will take those images and arrange them on a convenient sticker sheet layout free of charge.  
How many stickers should I put on the sheet?
We recommend ordering sticker sheets with 3-7 stickers per sheet. We can accommodate more or less as long as the final sheet size has enough room for all of the stickers!
How much spacing should I put between stickers?
We recommend .25″ spacing between cut lines for all kiss cut products. This gives each sticker enough breathing room to be cleanly removed from the sheet without damaging other stickers.
Buy Custom Sticker Sheets With Confidence
Trusted Reputation

40+ years in business and billions of stickers produced for brands world-wide.
Cost Effective

Inexpensive for small orders and extremely competitive for bulk orders!
Simple Ordering

Select your product and checkout in under 3 minutes.
Speedy Production

Most orders ship in 5 business days with free ground shipping!
Looking For Something More Custom?
Our wholesale B2B team can help you with your complex sticker sheet project! Fill out the form below and one of our account executive will contact you within 24 hours. Or feel free to contact us at (918) 258-6502 or hello@comgraphx.com.
Similar To Sticker Sheets