Signage No Retailer Should Ignore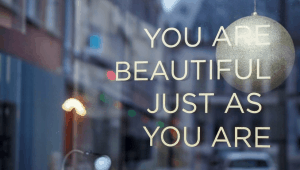 Your store front is what your customers see first. If you want to be noticed and drive sales you need to start with retail signage. Effective signage has a purpose and fits well into the overall message you want to convey to your customer. Signage that is not thought out and is overwhelming to the customer defeats the purpose so it might as well not be there. Be particular in your signage and use only what makes since to draw customers in. Be purposeful in the message you are working to convey.
Outdoor Signage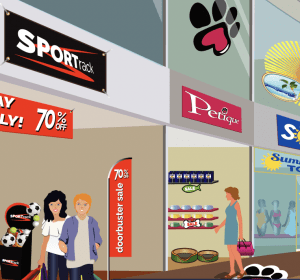 Outdoor signage is what gets customers in the door. This is the first purpose of outdoor signage and must convey a simple easy message. These outdoor signs can have an incentive such as "Today Only" and make them want to come visit your store and find out more.
Informational Retail Signage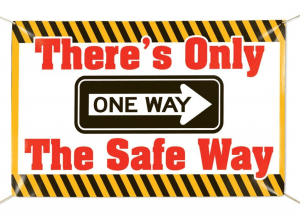 Once you get them in the door you may need to direct them to the next step. Use informational signage to do just that. Whether you want your customer to check in or sign up. Remember this may be your customer's first time visiting and they need a clear, easy to read message of what to do next.
Signage That Will Influence
Influencing signage is designed to persuade customer behavior. If you have a product that you are wanting to move use influencing signage to get the product out the door. "Tire Sale", "Free sticker with every purchase", "buy three get one free" are all examples of influencing signage. Using influencing signage provides a great way for retailers to communicate directly to the customer.
Floor Graphics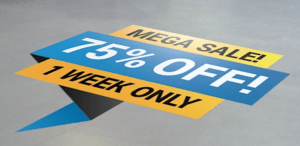 Once of the most influential types of marketing is floor graphics. Because they are something out of the ordinary. Floor graphics lead you directly to the product retailers want customers to see and buy. Be creative with your floor graphics. Footprints are a great tool to get customers to follow but what about floor graphics that look like oil spills or tire tracks? Creative floor graphics will catch your customer's eye and attract their attention.
Let Comgraphx start your retail signage project today
We've put together examples of different types of retail signage in these pdf links.
Download them and give us a call we can start your signage project today. Use all of our products or just some of them. We can help put together an effective signage project that will increase your traffic and increase sales.