Print on the Back and Get Your Stickers for Free
How do you get your stickers for free? Print on the back and get sponsors to pay for your sticker order. There are not many places that print on the backs of stickers anymore. Comgraphx has been printing on the backs of all kinds of stickers for decades and we don't plan on stopping any time soon.
How to Get Sponsors to Pay for your order.
National chains such as Chick-Fil-a, McDonald's, Arby's all love to sponsor sticker marketing campaigns. Find the one that fits with your message and reach out. These companies have money set aside to advertise using coupon codes. When you print their coupon on the back of your sticker it creates a winning combination for you and for your sponsor.
Use the Slit Back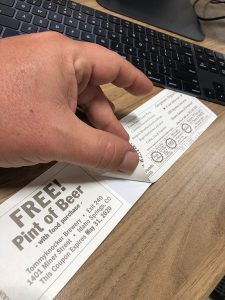 Another fantastic benefit to ordering stickers through Comgraphx is the back slit. Print on the backs, get a couple of great sponsors, print on the back and slit the back between the two coupons.
Not only are you getting your stickers for free but your customers each have their own coupon. It makes your sticker easy to apply and they are left with two coupons they can use any time they would like. Check out our blog focusing only on Stickers with Slit Backs.
Promote Yourself
Let's say you have one sponsor, but the other half of your sticker back is blank. Use that space for your own promotion. You have information that you want your customer to keep, Print on the back to get this information into their hands. Use the backs to print an entry form or build your data base by printing a subscription card. The uses of the backs of your stickers are nearly endless, not to mention you could get your stickers for free if you have enough sponsors.
Where to Use Your Promotional Stickers
You may be attending a trade show or a special event, maybe you send out a sticker with every order. Not putting print on the back is like buying a billboard and not using it. This is valuable advertising space that you can sell to your sponsors so you can get stickers for free or use for your own company growth.