Vinyl Banners are an affordable and highly effective way to advertise your brand in front of a diverse audience. It doesn't matter if you're hanging your banners from the side of a building, or at a trade show! Vinyl banners will make a fantastic edition to your marketing campaign.
At Comgraphx we offer a wide variety of materials that are guaranteed to fit your needs. Whether you're running a short-term indoor promotion, or a long-term outdoor campaign, our materials coupled with our long-lasting UV digital ink will give your brand's marketing efforts just what it needs to set you apart.
How To Choose Your Vinyl Banners Material.
Depending on your application, we offer a wide variety of vinyl materials ranging from an 8 oz, to 18 oz.
8 oz material is a great economical option that still has reinforcing scrim lines for durability. But is also a low-cost way to grab your customers attention.
10 oz material is the "go-to" banner weight for high run marketing campaigns. This material is the perfect solution for indoor and short-term outdoor applications.
12 oz block-out material is ideal for single sided, stand-up display banners. These are typically seen at trade-shows and events.
13 oz material features the extra strength for those applications that require a high level of durability for outdoor use.
18 oz material is the "top performer" for pole banner applications. This material is the best option for long-term indoor, extreme outdoor, and pole banner applications.
Finishing Options For Your Vinyl Banners.
Comgraphx understands that not every application is the same. We offer a variety of finishing options to make sure your brand's message is displayed properly. A thermal hem is an ideal way to add strength to your vinyl banners. A thermal hem is created by folding the edge of the banner over and thermally welding the vinyl to itself, creating a durable hem ideal for attaching grommets.
Add some grommets! No banner is complete without grommets. These allow the banner to be displayed by attaching rope, bungee cord, or zip ties to the corners of the banner. Grommets are offered in a variety of sizes and colors.
Pole banners are a great way to display your message for long periods of time. Our pole banners consist of a 1" – 3" pole pocket thermally hemmed at the top and bottom of the banner. These pockets can be reinforced with grommets to ensure the banner will withstand the elements for years!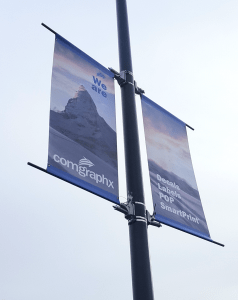 Installing Your Vinyl Banners.
Banners are incredibly versatile marketing pieces. Whether you're installing indoors, or outdoors, materials can be found almost anywhere. Simple installations include rope, or bungee cord, which can be fastened to the corners of your vinyl banners through the grommets, and then tied to a secure structure on either side of the display.
Utilize the pole pockets of our 18oz banner to display your brand on the side of street pole, or to add a weight in the bottom of the banner to allow it to hang freely from the ceiling.
Retractable banner stands are a great way to display your brand at trade shows, restaurants, retailers, and business expos. These are quick and easy to assemble, and disassemble and can be used repeatedly.
Vinyl banners are simple to install and are highly effective marketing pieces that can be used to visually connect with your customer and communicate your brand or promotion. Contact one of our experienced account executives today to find how we can help you take your marketing campaign to the next level!