There are a few steps you can follow to apply a sticker:
Clean the surface where you want to use the sticker. Make sure it is dry and free of any dirt or debris.
Slowly peel the backing paper off the sticker. If the sticker is large, it might be best to use the wet method to apply. Another option is to have the stickers back slit in multiple places to make it easier to apply.
Position the sticker on the surface where you want to apply it. Use a scraper or a credit card to smooth out any air bubbles and ensure that the sticker adheres appropriately.
If the sticker has multiple layers, carefully peel off each layer, smoothing out any air bubbles as you go.
Once the sticker is applied, gently press down on the edges to ensure it is fully stuck to the surface.
Stickers can take up to 72 hours before they fully adhere to the surface. This is because the adhesive takes time to ooze out and fill all crevices.
By following these steps, you can apply a sticker smoothly and evenly.
What are the best places to put stickers?
Stickers can go almost anywhere! They are a fun accessory to decorate your gear. These are our top recommendations for sticker placement:
Laptops, tablets, and other personal devices
Water bottles and tumblers
Notebooks and planners
Car windows and
Garage refrigerators and freezers
Toolboxes
Ice chests
Stickers are a great way to show support for a particular brand or product you enjoy using. They are the perfect way to personalize your items and show off your interests.
Stickers with back slits make it easy to remove the backing paper
Have you ever seen a sticker without a back slit and had trouble getting the sticker off the backing paper? Stickers with a back slit make it significantly easier to apply stickers correctly on the first try. All of the stickers we produce come standard with a back slit.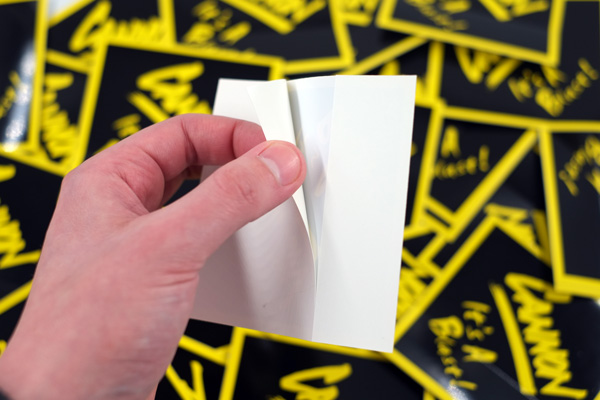 Using the wet method for Large Stickers and Retail Graphics
The wet method is a way of applying very large stickers. The most common places the wet method are used is for retail window graphics and truck graphics. This method uses a soap and water combination to temporarily deaden the adhesive, allowing the sticker to be repositioned.
To learn more about the wet method, check out this video!
There is more to applying stickers than meets the eye! By selecting the right location and using the best method to stick them on your ideal surface, stickers can be a fun way to show personality through your favorite brands.