Die cut stickers have become increasingly popular in recent years, thanks to their versatility and eye-catching designs. But with so many options available, it can be overwhelming to know where to start. This guide provides all the necessary information about die cut stickers. It includes details about what die cut stickers are, design tips, and other related products.
What do die cut stickers mean?
Die cut stickers are custom-made stickers cut to a specific shape or design. This vinyl sticker is popular because its cut shape matches the design's curves, making it visually appealing.
The term die cut refers specifically to the method and style of cutting that produces the unique shape. Traditionally a steel die was used to cut the sticker into nearly any shape, including intricate designs. That's where the name comes from! With changes in technology, most stickers are cut with plotters and lasers, but the name still stands.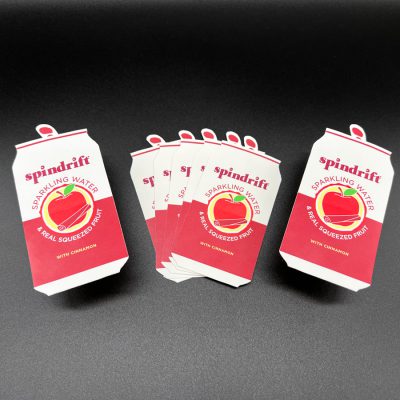 What are the other cut styles for stickers?
Outdoor vinyl stickers come in 3 basic cut styles – die cut, kiss cut, and straight cut (squares and rectangles). Kiss cut stickers are similar to die cut stickers because custom shapes are also available. The main difference is the backing paper. With kiss cut stickers, the vinyl is cut but the backing paper isn't. This allows the sticker to peel off the backing paper easily.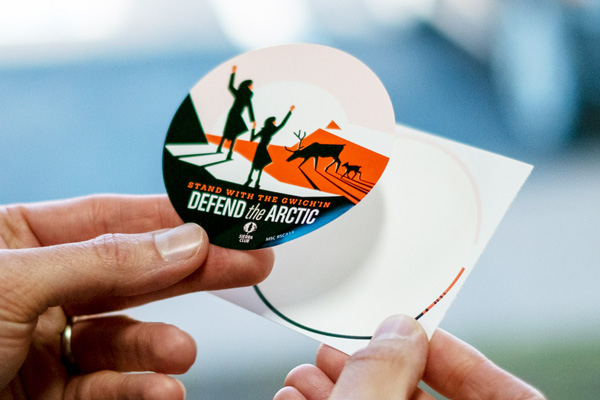 Straight cut stickers refer to square and rectangular stickers. This type doesn't require a special shape cut.
When is a kiss cut sticker preferred over a die cut sticker?
Kiss cut stickers are best for complex shapes that might bend or crease at the corners when handing them out.
Another use for kiss cut stickers is a sticker sheet, which includes several stickers on a convenient backing paper. This product gives designers and brands the freedom to come up with many fun stickers.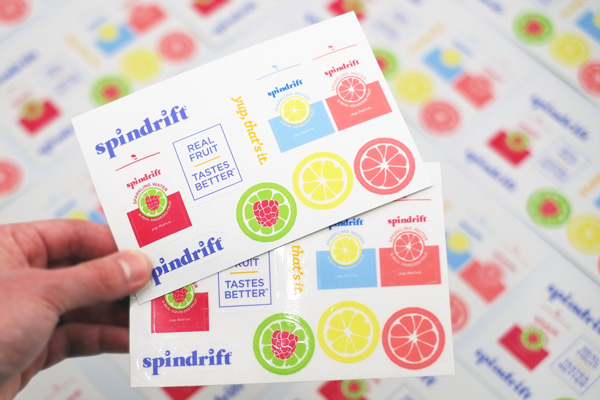 What material do people use for die cut stickers?
Standard die cuts are made from outdoor-grade vinyl material. This material is cost-effective and highly durable against the sun, rain, wind, and other factors such as car washes. Die cut stickers can be made from several other materials including polyester, BOPP, static cling, and paper.
How do people make die cut stickers?
Printing
Die cut stickers are printed in several different ways depending on the artwork complexity, size of the order, and outdoor durability requirements. The most popular style of printing for die cut stickers is screen printing because of the long-term outdoor durability and rich glossy colors.
Digital printing is also popular for custom stickers and newer equipment has made the long-term durability nearly comparable to traditional screen printing.
Laminating
Stickers are laminated to achieve a matte or glossy look and protect the ink from the sun, wind, rain, and dishwasher. The laminate also adds extra durability allowing the stickers to last outdoor for a longer period of time.
Slitting
Back-slitting is a process of cutting through the liner paper on die cut stickers. This makes the stickers easy to peel and use. Don't underestimate the importance of a good back slit sticker!
Die cutting, plotting, laser cutting
Stickers are cut to shape in one of three ways. Using an old-school die-cutter, plotter, or laser cutter. All three methods of cutting produce an excellent part. There are pro's and con's to each, but these differences are indistinguishable to most sticker users.
What types of products are ideal for die cut stickers?
Custom outdoor vinyl stickers are used to create many products. From promotional branding stickers to contingency decals.
Comgraphx Sticker Products with Die Cuts
A list of all products with a die cut shape available
What design considerations are important for die cut stickers?
Safe zone around the design
Die cutting requires a safety zone around the sticker design to account for tiny variances in registration while cutting. The normal safety zone is 3/32″ (.09375″). Be mindful of this safety zone when designing stickers with important elements towards the edge of the design.
White border vs. full bleed
Stickers look great with white borders and full bleed designs. Either option is available for die cut stickers. Keep in mind dark designs without a white border might blend in with a dark background like a car window. In this situation, we recommend a white border.
The white border can also help a design to "pop" off the sticker.
Interior die cuts
Interior die cuts are holes in the middle of a design. Sometimes this is important when the sticker is fitting over a pre-manufactured part. We can accommodate this type of design on limited occasions. Reach out to our customer service team to find out if your artwork can handle an interior die cut!
What are the best ways for a business to use die cut stickers?
Branding stickers
Promotional stickers
Giveaways at events and trade shows
Packaging inserts for online retailers
Sell premium designs in-store or online
Authorized dealer decals
Conclusion
Custom stickers are a versatile product and the die-cut version is a great choice.
In conclusion, die cut outdoor stickers are a fantastic way to promote your brand, express yourself, or simply add some flair to your belongings. With their durable and weather-resistant materials, they can withstand the toughest outdoor environments and keep your message looking fresh and vibrant for years to come. Whether you're looking for a custom design or a standard template, there's a wide range of options available to suit your needs and budget. So don't hesitate to explore the world of die cut outdoor stickers and unleash your creativity today!
Interested in buying die cut stickers?
We would love to see your brand thrive through the use of die cut stickers! Click the link below to get started.